Members
Bookings
Concert Dates
Discography
Sound Samples
Music & Lyrics
History
Links
Blackthorn is a Stockholm based band who play traditional Irish music. The singing plays an important role in Blackthorn's music, where it is is interwoven with an accompaniment by bouzouki, guitar and mandolin. The songs are mixed with instrumental dance tunes, where the melody is played on fiddle, flute, whistle, accordion and banjo. Blackthorn play a vivid, varied and playful music and want to transmit the rhythms, melodies and feelings of traditional Irish music.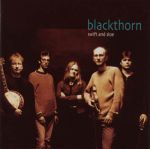 This five-piece band has existed since 1993 and we have released two records. The latest CD "Swift and Sloe" was released in December 2002 on Sjelvar Records. Read more about the CD...
Blackthorn mostly perform at music cafés and festivals, sometimes together with a group of step dancers.