Our new CD "Swift and Sloe"

Released 3 December 2002 on Sjelvar Records, order number SJECD 15. Distributed by CDA.

To order the CD in Sweden, see Swedish version of this page.

Contents

The Royal Forester (song)
Poor Man's Fortune (reels)
Banks of the Callan (song)
Before the Day Breaks (jigs)
Whiskey in Me Tae (song)
Polkas
Chicago (reels)
I Courted a Wee Girl (song)
Drummond Castle (hornpipe/jig/reel)
Banks of Kilrea (song)
The Jolly Tinker (reels)
Knickers of Corduroy (song)
Monk's Valley (jig)

Reviews...

Only in Swedish so far. See Swedish version of this page.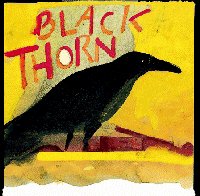 Our CD "Blackthorn"
This CD was released in October 1995.
It can be ordered from Rotspel, or if you live in Sweden, see instructions on the Swedish page
You can listen to some sound samples from our CD
Contents
You can click some of the tunes and songs to show sheet music or lyrics.
Dennis Doody's Polka / O'Neill's March (2:38)
The Coleraine Jig / The Over Gate (3:31)
Jackie Coleman's / The Humours of Westport / The Guns of the Magnificent Seven (3:11)
Paddy Fahy's / In Memory of Coleman (4:32)
Here I Am amongst You / The Star of Munster (2:08)
The Maids of Mount Cisco / Music in the Glen / Ah, Surely! (3:40)
Jamie Raeburn (3:39)
Richard Dwyer's / No Name / Craig's Pipes (3:27)
The Cat in the Hopper / The Rose in the Heather (3:49)
When a Man's in Love (3:37)
The Barley Grain (2:07)
The Customs Gap (2:35)
The Flower of Magherally (3:11)
Coleman's March (2:03)
The Dawn / Over the Moor to Maggie (4:13)

(3:41)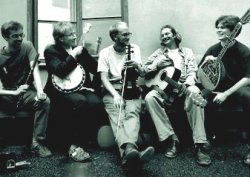 Our members when we made this CD:
Anders Clarhäll: fiddle, button accordion, brass bowl, guitar
Gustaf Eriksson: guitar, vocals, jew's harp
Fredrik Jakobsson: greek bouzouki, guitar
Henrik Norbeck: wooden flute, tin whistle, vocals, bodhrán
Jörgen Sälde: banjo, bouzouki, mandolin
Recorded by: Michael Eklund
Additional recording by: Jörgen Sälde
Mixed by: Jörgen Sälde
Front cover painting by: Lenny Clarhäll
Photo by: Jimmy Öhlund
Drawing on CD by: Anders Clarhäll
Sleeve layout by: Henrik Norbeck
Repro by: Lasse Jödahl and Sören Backman
Mastering and printing by: Cutting Room and DCM